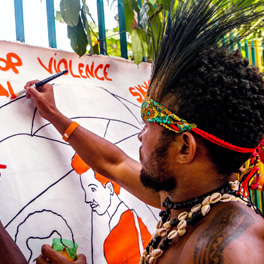 Modalité d'apprentissage: En autonomie
Date: Disponible en ligne toute l'année
Durée: Environ 3 heures pour les 4 modules qui sont requis afin d'obtenir le certificat du cours.
Langue: Anglais, français et espagnol
Coût: 60 US$
Faire mieux comprendre la masculinité et ses rapports avec la violence à l'égard des femmes et des filles, et identifier des actions qui permettront de remettre en question les normes et pratiques masculines néfastes, pour un processus de promotion de la justice de genre.
Ce cours est organisé en 4 modules:
La masculinité est importante
Apprendre à être un homme
Les masculinités et la violence à l'égard des femmes et des filles
Des masculinités patriarcales aux masculinités transformatrices
Toutes les personnes qui souhaitent en savoir plus sur les masculinités et sur la violence à l'égard des femmes et des filles.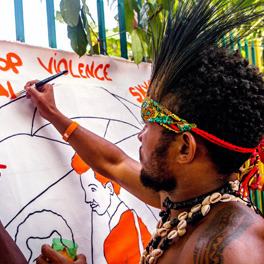 Modalidad de aprendizaje: Auto-aprendizaje
Fecha: Disponible en línea todo el año
Duración: Aproximadamente 3 horas para los 4 módulos para recibir el certificado del curso.
Idioma: Inglés, francés y español
Matrícula: 60 US$
El propósito de este curso es ayudar a entender la masculinidad y su vínculo con la violencia contra las mujeres y las niñas, y a identificar acciones que cuestionen las normas masculinas nocivas como un proceso para promover la justicia de género.
El curso está organizado en 4 módulos:
La masculinidad importa
Aprender a ser hombre
Masculinidades y violencia contra las mujeres y las niñas
De las masculinidades patriarcales a las transformadoras
Toda persona interesada en aprender sobre las masculinidades y la violencia contra las mujeres y las niñas.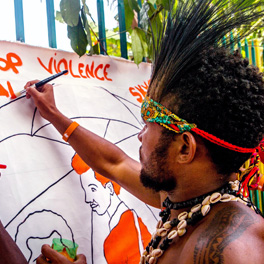 Learning Modality:Self-paced
Date: Available online all year
Duration: Approximately 3 hours for the 4 modules required to receive the course certificate.
Language: English, French and Spanish

Tuition fee: 60 US$
To provide understanding on masculinity and its connection with violence against women and girls, and identify actions to challenge harmful masculine norms and practices as a process to promote gender justice.
The course is divided into the following modules:
Masculinity matters
Learning to be men
Masculinities and VAW/G
From patriarchal masculinities to transformative masculinities
All who are interested to learn about masculinities and VAW/G.